10 Comfortable Items To Wear For Thanksgiving Dinner
The holidays are filled with so many wonderful traditions. One of the best parts of the holiday season is spending time with family members you don't see very often. But what do you wear to Thanksgiving dinner? It's a formal event that requires you to dress nicely and avoid sweats or casual clothing.
You'll also spend most of your day sitting on the floor in front of a massive table, so comfort is important. Have no fear. We've covered you with several outfit ideas for your Thanksgiving dinner outfit.
What To Wear On Thanksgiving For Men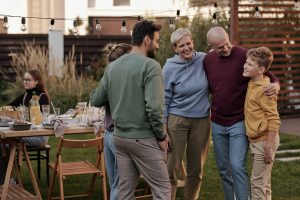 A Thanksgiving outfit for men doesn't have to be a suit. It's better to avoid wearing a suit. Instead, opt for the following:
1. A DB Blazer And Jeans
Wear a dark denim blazer over a light or white button-down shirt. The blazer should be unbuttoned and worn over the shirt, with the sleeves rolled up to your elbows. Add some black shoes, dark-wash jeans, and a pair of aviator sunglasses for a cool look.
2. A Statement Shacket With Jeans
Why not consider a statement jacket if you're looking for something a little different to wear to Thanksgiving dinner? A statement jacket is great for Thanksgiving because it's casual enough to wear Thanksgiving, but it also has just enough style to dress up the look. Plus, you can layer a sweater underneath. That way, you can take the coat off if you're getting hot or if there's an unexpected chill in the air.
3. BeltBro For Men
If you love belts, the first thing you want to wear for Thanksgiving is a comfortable belt. There's nothing more important than a belt with your shirt. A belt helps hold your pants up, an important accessory for wearing a shirt.
A good genuine belt is important, so check out the BeltBro for Men. The BeltBro has all of the features you need. It's made of genuine a soft elastic fiber band with nylon and polyester that will keep your pants secure to the two belt loops around your waist.
4. Full Sweatsuit
This is an extremely comfortable option for your Thanksgiving dinner. A full-sweat suit is a perfect way to stay warm, but you can still dress nice. It's also a great option if you want to wear something comfortable for the day.
5. Shade Of Brown
This is an excellent option for those who wear brown shirts but aren't sure what to wear for Thanksgiving dinner. Brown works well with nearly any other color so it can be used as an accent or as the main color in your outfit.
What To Wear On Thanksgiving For Women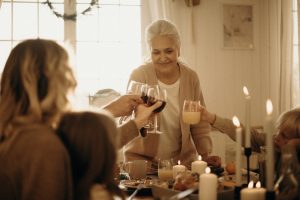 This is the most comfortable and trendy way to wear a festive outfit. It requires a little planning, but it's well worth it. Your outfit will be warm and cozy. You'll also be able to eat with your hands and not worry about spills:
1. A Pair Of Stretchy Jeans
Jeans are a great way to add a little bit of comfort to your outfit. They're stretchy and have a lot of give so that you can slip them on over your shoes, and they will stay put. Jeans are also great because they easily get on and off with one hand.
This is important because it will make getting dressed much quicker than putting on pants or boots. You want to be able to get dressed quickly for the holiday dinner, so don't be afraid to wear jeans for Thanksgiving dinner.
2. A Tight Turtleneck And Loose Bottoms
A turtleneck is a great way to add style to an otherwise plain outfit. It adds a little extra coverage and warmth and is especially ideal for the cold days of winter. A loose bottom will help you from feeling too constricted while seated on the floor in front of a table full of food.
3. A Modern Power Suit
A Modern power suit is a staple for every professional woman, but it is also perfect for Thanksgiving. This is the perfect option for any woman who wants to wear a power suit and still feel comfortable at the event.
The modern power suit is an updated take on the classic power suit. It's tailored, stylish, and extremely comfortable. It's also available in various colors, fabric types, and patterns to complement any woman's style.
4. BeltBro for Women
The BeltBro for Women is a stylish belt for women with no buckle belt. The color and style of the belt can change according to your mood or occasion. You can use it as a formal belt or as a casual belt. It looks good with jeans, plus-size clothing, skirts, dresses, and even shorts.
This belt is made from a special material that helps you feel more comfortable. It won't cause any chafing or abrasions. You'll also be able to move around easily, which can be a problem for some women when wearing these belts.
5. A Sweater Vest With Jeans
This is a perfect outfit option for Thanksgiving dinner. Sweaters are always a good idea to wear during the colder months of the year, and they're also a great way to stay warm while sitting on the floor.
The sweater vest shown here is extremely comfortable because it has a stretchy material that allows you to move freely. The jeans are also very casual and comfortable. The sneakers are essential for any formal occasion because they help keep your feet warm without adding bulk to your outfit.
In conclusion, Thanksgiving is one of the best times to kick back, relax and enjoy your family. It's important, though, to make sure you look stylish while doing it. The most important factor when dressing for Thanksgiving dinner is comfort. It's a day filled with lots of sitting and eating, so you'll want to wear something comfortable and stylish.